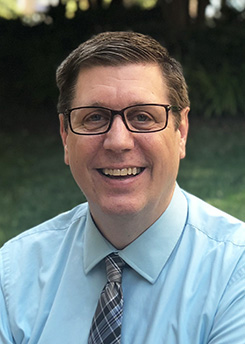 Rich Lucey
I hope you are doing what is necessary to keep yourself, your family and friends, and your community safe and healthy during this unprecedented public health crisis. Although we knew the coronavirus was going to have a significant impact on our nation, I'm not sure anyone could have predicted just how severe and long lasting it would be. Many of us are anxious to return to a sense of normalcy, and yet, the future seems like one big question mark.
 
We hear the phrase "new normal" being tossed around, but the reality is that none of us truly knows what the new normal will be. We will be transformed in some way because of COVID-19. We only have to look at two devastating events in our recent history to know this to be true.
 
Our nation's "new normal" was changed after September 11, 2001. New airport security measures were put in place and the Department of Homeland Security and Transportation Security Administration were created. For those of us who travel for business or pleasure, we adjusted to longer lines at airports and intensive screening procedures. We also were encouraged to be much more aware of our surroundings, and if you "see something, say something."
 
The "new normal" for colleges and universities nationwide was altered on April 16, 2007, following the horrific mass shooting at Virginia Tech. Seemingly overnight, institutions of higher education were examining ways in which to make their campuses safer, enhancing their efforts to promote mental health, and developing behavioral assessment teams.
 
The current new normal for many of us who work in prevention is figuring out how to prevent drug misuse among college students (or other populations) in virtual settings. During the past few weeks, I was encouraged by the following examples of "virtual prevention" that are happening on college campuses and in their surrounding communities:
 
Presenting a workshop on marijuana and other drugs via Zoom for students who are sanctioned/mandated to attend such a session following a violation of campus policy.
Sending weekly newsletters to students via e-mail, reminding them of the wellness resources available to them.
Using social media platforms intensively to transmit prevention messages. It was interesting to hear from campuses whose social media messaging was used sparsely until this public health emergency served as a catalyst to use it more widespread.
 
Another thing we have learned from history is that substance misuse tends to rise following a traumatic event or during stressful times. So now is not the time to put prevention efforts – virtual or otherwise – on the back burner. They need to be front and center as students and other members of the campus community navigate through these stressful and uncertain times.
 
As you continue your prevention efforts – now and in the future – please visit www.campusdrugprevention.gov, DEA's award-winning website for professionals working to prevent drug misuse among college students. The website contains a wealth of resources to help support you and your efforts, including the Prevention with Purpose strategic planning guide, Practitioner's Toolbox, and Peer Education Portal. We also have highlighted several virtual resources for campus professionals, which you should find particularly relevant now.
 
I have worked in the field of drug misuse prevention for almost three decades. One of the things I appreciate most about this field is the willingness that prevention professionals have for helping and supporting each other. Once we flatten the curve and significantly curtail the virus's transmission, I believe that a return to business as usual will no longer be business as usual. However, I am certain our collaborations and partnerships to prevent drug misuse among college students will continue in the new normal.
 
---
Richard Lucey, Jr. is a Senior Prevention Program Manager in the Drug Enforcement Administration's Community Outreach and Prevention Support Section. In this role, Rich plans and executes educational and public information programs, evaluates program goals and outcomes, and serves as a policy and program advisor to the Section Chief and other DEA officials on drug misuse prevention and education programs. Rich formerly served as Special Assistant to the Director for the Center for Substance Abuse Prevention in the Substance Abuse and Mental Health Services Administration, where he advised the director on the Center's efforts to prevent substance misuse and promote mental health among college students. Rich also formerly worked as an Education Program Specialist in the U.S. Department of Education's Office of Safe and Drug-Free Schools, where he was responsible for communicating the principles around evidence-based drug misuse and violence prevention strategies in higher education.