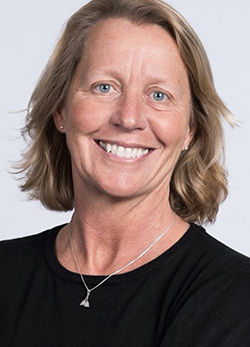 Dr. Sally Linowski
Pivot. Virtual. Remote. Hybrid. Zoom. Quarantine. Isolation. Masks. Hand sanitizer. Social Distance. Positivity rates. Death rates. PPE. Shutdown. Mandatory testing. Moderna. Pfizer. Johnson and Johnson. Vaccine hesitancy. Herd immunity. Mental health. Anxiety. Substance Misuse. Zoom Drinking Parties. Cocktails in Class. Cocktails to Go. Alcohol Delivery. Superspreader events. New Normal. Re-opening. Boosters.
The COVID-19 pandemic is the public health crisis of this century. In a sense we are all riding the same storm, but in different boats. For those of us in substance misuse prevention, navigating the storm means putting on our survival suits, stocking up on essentials, charting a course, anticipating hazards—all to keep the boat afloat on the way to safe harbor. In prevention, we not only chase storms, but also we crush them. Together, with science, data, theory, frameworks, empathy, health communication campaigns, policy, strategy and with multi-level collaboration of stakeholders, we understand that behavioral change is possible and essential to save lives and weather any storm.
 
With almost 30 years of substance misuse prevention experience in higher education in my wake, COVID-19 reawakened my survival instincts personally and professionally. In late spring 2020, I found myself sitting in endless Zoom meetings where colleagues tried to figure out how to get students, staff, and faculty to minimize their risk of contracting COVID, how to modify the environment to prevent community spread, how to communicate expectations, and how to influence community norms for behavior. Sounds familiar, eh?
Instinctively, I pulled out my trusty diagrams and prevention resources with excitement and comfort. Prevention is the antidote. The right doses of influencing policy and legislation, changing organizational practices, fostering coalitions and networks, promoting community education, and strengthening individual knowledge and skill matter.
I've heard that we are actually facing a "syndemic" of mental health challenges, substance misuse, and health inequities that will persist long past achieving the desired vaccination rates in the U.S. Taking time to reimagine, revise, and reflect on university life in 2020-2021 is hitting the refresh button on effective prevention. Here are five takeaways to pack in our go-bags as we prepare for the challenges and opportunities of bringing all boats to safe harbor.
 
Stick to what works. Evidence-based strategies spread across the spectrum of prevention remain critical. Service delivery model adaptations necessitated by the pandemic mayadvance access and equity for individuals. Program evaluation will guide best practice.
 
Be vocal. Keep alcohol, drugs, and mental health in the conversation as institutions and individuals navigate a return to normal. Students who spent their freshman year of college living at home staring at a computer may have idealized notions of college life robust with parties, easy access to alcohol, large gatherings, and freedom without the tools in their backpacks to achieve their academic and social goals. Colleges, in turn, may exaggerate the ease of a re-opening plan, with blinders on the social environment and individual risks and protective factors that were altered by COVID-19. Pull out your data, your knowledge of social norms influence, high-risk traditions and high-risk settings that contribute to dangerous drinking and other drug use and challenge rosy views of the "old normal."
 
Take hold of the gaps in policy and processes that were laid bare by COVID-19. Getting folks to wear masks in public for the good of all required a re-examination of campus, local, and state level policy. For example, limiting the size of social gatherings also reduced fire risk in crowded house parties or fraternity basements, and communicated expectations to all community members. Social media posts of crowded, unmasked gatherings now are challenged and reported by the healthy majority of students, who worry about the health of their communities and demand accountability. Seize the moment to engage students and other stakeholders who are tuned in to prevention.
 
Nurture and build relationships with any new partners in prevention. Town health officials, business owners, landlords, police, students, campus facilities staff, environmental health and safety professionals, senior centers, students, governing bodies, and finance staff are interested in community health and the costs of poor health in new ways. For instance, our campus wastewater treatment program invested in monitoring COVID predictors in wastewater to understand the pandemic and assist us in planning tailored interventions. Will they now be open to monitoring traces of substances in wastewater streams by geographic area of campus and town to guide prevention? Ask! Engage. Reach out. Re-imagine.
 
Be bold. Take a risk. Ask for staffing or resources. Prioritizing health and well-being allowed us to make it through this storm. Institutions shifted operations, made sacrifices, and developed new policies and procedures in rapid time. Prevention works. It takes a team, data, and response. Remind decision makers. Keep community values and your trusty prevention tool bag upfront as you step out unmasked into what lies ahead.
---
Sally Linowski, Ph.D., CHES has over 25 years of experience in substance misuse prevention, health promotion, health services leadership, and teaching in higher education. She is an Associate Dean of Students at UMass Amherst, an adjunct assistant professor at the UMass Amherst School of Public Health and Health Sciences, and founder/co-chair of the Campus and Community Coalition to Reduce High Risk Drinking. In her current role, Sally oversees Off-Campus Student Life and Community Engagement, Student Parent Programs, and Fraternity and Sorority Life. Sally serves on the Board of Directors of the International Town Gown Association. She serves as a consultant to campuses nationally on the strategic implementation of comprehensive prevention programs, including extensive experience ensuring compliance with federal mandates, and planning and implementing individual and environmental prevention approaches. She has extensive expertise in building sustainable programs and federal grants for substance misuse prevention as well as low income student support programs.