And I hope when I get old I don't sit around thinking about it
But I probably will
Yeah, just trying to recapture
A little of the glory, of well time slips away
And leaves you with nothing mister but
Boring stories of glory days…
Glory days, well they'll pass you by
Glory days in the wink of a young girl's eye
- "Glory Days," by Bruce Springsteen 
Prevention is like rock and roll—bold, progressive, disruptive to the status quo, and built note by note by dedicated artists striving to leave a mark on the world. Like good music, comprehensive, coordinated approaches that combine individual and environmental prevention strategies require practice, patience, teamwork, and passion. As I reflect on my 27-year journey in college drinking and drug abuse prevention, I am one of the band, maybe a background vocalist, the bass guitar, the percussionist, the blaring saxophone, but rarely the lead singer.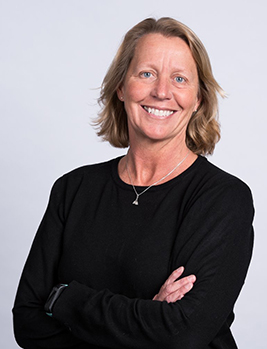 Sally Linowski, Ph.D.
When asked to write about campus and community collaboration, I imagine our metaphorical CCC Rock Band, on the road telling our story to the faithful fans who fill the stadium. When prevention works, it feels good, alive and hopeful. When it doesn't, it takes us back to rehearsal, to tune our instruments, remix our sound, and work together to get it right. Then, we hit the road again like we never stopped. This, after all, is how we make lasting change in our communities' quality of life.
 
The UMass Amherst Campus and Community Coalition (CCC) to Reduce High Risk Drinking is in its 14th year. The CCC formed as part of a larger research project, and received technical assistance on coalition building and strategic planning and funding for data collection. CCC members are diverse, including campus police, town police, government representatives from three local towns, community chamber of commerce, alcohol retailers, residence life, Greek affairs, dean of students, heath promotion, athletics, university relations, and other partners. Members agree to focus efforts toward risk reduction, view decreased student drinking as a shared responsibility of campus and community, and use best practices including a comprehensive approach to prevention.
 
During its first five years, the CCC's strategic plan focused on policy and enforcement.
 
Implementing a BASICS program for policy violators increased stakeholder confidence in the campus conduct process and in turn created a willingness to engage in campus alcohol policy review. Major policy changes included prohibitions against drinking games, alcohol-related paraphernalia, large gatherings in dorm areas, possession of empty alcoholic beverage containers, and intoxication. Medical amnesty policies for alcohol overdoses were approved, along with an online alcohol education course mandated for incoming students, and a policy communication plan. After making these campus level changes, the CCC worked to propose and implement two new town bylaws—prohibiting open containers of alcohol and required keg registration for the towns of Amherst and Hadley. The next step involved increasing the fines associated with violations from $50 to $300 at town meeting.
 
In 2008, both towns passed a nuisance house/social host bylaw that held tenants accountable for large gatherings where alcohol, noise, crowds, and unsafe situations threatened public health and safety. Landlords are notified after the first violation, and after a second violation must take action to evict. A third violation without undertaking eviction results in a $300 fine to the landlord. Campus and community data reflected an increase in enforcement, significant reductions in binge drinking, underage binge drinking, frequent binge drinking, and alcohol-related consequences among students.
 
That is the set list to the show, but the backstage tour is a view into the people who made the magic happen. Martha, the community liaison, knew the right people to bring to the table for a new approach to town gown problems. Steve, the apartment complex manager whose property was damaged by an off-campus riot in 2003, who led the workgroup made up of a town manager, town police, students, and university relations staff that brought the nuisance house bylaw into place. There was Mike, the town cop, who led the charge to increase fines for alcohol violations by minors in Amherst and Hadley, by sharing stories of patrol officers addressing small crimes to prevent larger problems in the community. Sean, the liquor store owner, said yes when we asked him to stop selling ice luges that students used to chug hard alcohol and later chaired our Retail Partners Subcommittee. Stephanie, the local select board chairperson, advocated for increased alcohol bylaw fines and required all new liquor license holders to join the CCC. At UMass, a cop named Tom figured out a way to redirect student foot traffic through edge neighborhoods, creating a new student neighborhood outreach team called Walk this Way. Tom collaborated with a middle school science club who created the We Live Here Too website and poster series to highlight how college student drinking affects local kids.
 
In my role as prevention coordinator, I got public health science and campus stakeholders on board, especially the undergraduate resident assistants who wrote up alcohol policy violations in their residence halls and wanted their actions to help rather than punish their peers. Inviting them to participate in the new BASICS program got their buy-in because they experienced a non-judgmental, effective, personalized drinking intervention. As coalition partners, we were a force that built momentum through trust, hard work, and careful planning that changed our campus and local community in significant ways.
 
Like any good rock band, the CCC almost split up after 11 years. Tensions between town, gown, and students were high after the Blarney Blowout, an off-campus drinking gathering that resulted in 55 arrests, property damage, reputational damage, and despair. Many of us on the CCC felt the burn of failure, read the harsh reviews, and turned away from the music. But then we heard a call in the distance…
 
Message keeps getting clearer
Radio's on and I'm moving round the place
I check my look in the mirror,
I wanna change my clothes, my hair, my face
Man I ain't getting nowhere
I'm just living in a dump like this
There's something happening somewhere
Baby I just know that there is
You can't start a fire
Can't start a fire without a spark
- "Dancing in the Dark," Bruce Springsteen  
And the CCC reunion tour began. Our collective passion kept us from getting disheartened and we forged on. We studied mass gatherings, crime prevention through environmental design techniques, and got back to work, without laying blame, shaming, or hopelessness. We rolled up our sleeves, shifted our focus toward collaborative solutions, and fine-tuned our instruments for the next show.  Prevention can't be stopped.
 
 
Sally Linowski, Ph.D., CHES has over 25 years of experience in substance abuse prevention and teaching in higher education. She serves as a consultant to campuses nationally on the strategic implementation of comprehensive prevention programs, including extensive experience ensuring compliance with federal mandates and planning, and implementing individual and environmental prevention approaches. She is Associate Dean of Students at UMass Amherst, an adjunct assistant professor at the UMass Amherst School of Public Health and Health Sciences, and former co-chair of the Campus and Community Coalition to Reduce High Risk Drinking.