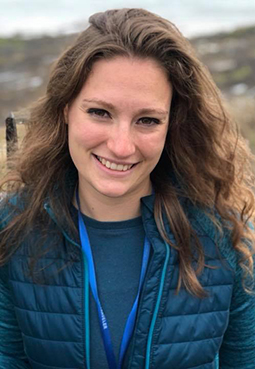 Louise Harder
This past year, we navigated unprecedented challenges. We shifted programming online. We were pushed to be more creative and flexible. We saw staffing cuts, increased workloads, and turnover. We worked through the benefits and challenges of working alongside partners, children, and pets. We did all of this as policy and protocols changed weekly. And it has been exhausting. To get me through, I have gone back to a few of my key tenets in prevention.
 
First, follow the data.
To add to our stress, in the months following statewide shutdowns, we saw concerning headlines in the news. "Alcohol Consumption Has Spiked during the Pandemic." "Pandemic Drinking Took Swift Toll on the Gut, Liver." "Coronavirus Pandemic Boosts Marijuana Sales." "Marijuana stockpiling during the coronavirus pandemic." Social media spread this message with memes about drinking to cope, happy hour all day, and more.
However, anecdotally, we heard from students who reported drinking the same amount and students who reported drinking less during the pandemic. We are starting to see data being released that confirms this point. While it is easy to jump to conclusions based on headlines and what is portrayed in the media, this is a good reminder to review and follow the data.
 
Second, use resources out there.
Not only does the data tell a story, but also it will guide us to evidence-based or evidence-informed strategies to reduce substance misuse on campus. I am very excited about the new resources we have to help us determine which prevention strategies to implement.
To name a few of my new go-tos – Prevention with Purpose is an incredible how-to guide for using the Strategic Prevention Framework on campus. The CollegeAIM was recently updated with research on the effectiveness of over 60 different interventions. The book Leading Campus Drug and Alcohol Prevention shares the importance of implementing effective prevention strategies and tools for doing so. Webinars and trainings have also increased accessibility to better understand best practices in the field. These resources and guides ensure that data and science drive our work.
 
Third, reach out to others.
In Michigan we are seeing more new professionals join the field, which is so exciting and wonderful. I enjoy working alongside and sharing ideas with those who are just starting out. I am also new enough myself to remember the learning curve and the "drinking from the firehose" feeling I had at times. In those moments, I was grateful for my mentors and seasoned professionals who supported and taught me the science of collegiate prevention. We are very lucky to have some incredible colleagues that are more than happy to share whatever you may need. Many states also have statewide networks and coalitions that you can join. Take advantage!
 
Finally, understand that this work is critical to student success.
There are many times I have been told that substance misuse prevention is a small portion of someone's workload or that the campus is currently more focused on decreasing anxiety and depression rates than on preventing substance misuse. The data clearly demonstrates the intersection between substance misuse and other behavioral health problems. The data also shows the relationship between substance use and negative academic outcomes. Our work in substance misuse prevention is so important! And it should be woven into all of our programming and activities on campus; it cannot be compartmentalized into a percentage of our job. We know this. Now we need to share it with supervisors and administrators to ensure we continue supporting students through the return to campus and beyond.
 
---
Louise Harder, Certified Prevention Specialist, has worked in prevention for 5+ years after graduating from Oakland University with a degree in Wellness, Health Promotion, and Injury Prevention. Louise is currently the Executive Director at Prevention Network, a statewide nonprofit focused on substance misuse prevention for various target populations, including college students. Prior to being the Executive Director, Louise coordinated the Michigan Higher Education Network at Prevention Network. Louise has a background in planning, implementing, and evaluating wellness strategies on college campuses, as well as coalition building, and substance misuse prevention efforts. She has keynoted discussions and written journal articles on mental health awareness and substance misuse prevention. Louise received the Top 10 Alumni within 10 Years Award from Oakland University and 2019 Michigan Preventionist of the Year from the Michigan Department of Health and Human Services Office of Recovery Oriented Systems of Care.