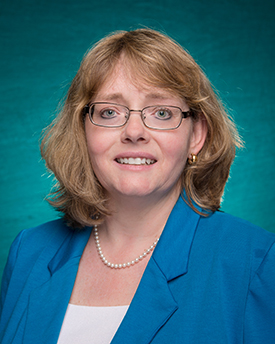 Dr. Katrin Wesner-Harts
I had the unique opportunity to attend my first American College Health Association meeting just as I was beginning a new role as the inaugural health educator at my prior institution. I will forever be grateful for that opportunity as a new college health professional. I headed to Chicago with a team of colleagues and was so impressed by the community that I found. I remember sitting at the opening session watching association officers, and wondering if I would ever have a role like theirs. Who could have imagined that, 25 years later, I would be president of the association, looking forward to celebrating our 100 th birthday back in the city where it all began for me? Unfortunately, COVID-19 changed our plans and we did not have an annual meeting last year, but that did not lessen the amazing opportunity I had to serve our field.
Little did I know when I started that I would gain so much from being a member of this national association. As I prepare to end my term as immediate past-president, I have spent some time reflecting on the lessons learned (or relearned).
Collaboration. I have always known that collaboration is valuable. This is evident in the spirit of sharing that exists within higher education, particularly in college health and in the prevention field. There is so much great work going on and so many thought leaders from whom we can gain inspiration and ideas. There is no need to be on this journey alone, so ask questions, read the literature, and reach out to someone you have read about or heard about. Most programs can simply be replicated on our campuses without making some changes, but we can build on the ideas of others. Conversely, it is important that we share our ideas with others. Together we are so much stronger than we are by ourselves.
 
Engagement. Look for ways to engage beyond your campus. ACHA and other similar associations thrive because of volunteers. They spend time finding ways to identify emerging leaders and giving them the opportunity to grow. Individually we have to be willing to take risks, but we also have to give others the same opportunity. One of my mentors laid out a plan for engagement that they shared with new professionals or people needing a challenge. Year 1: choose a meeting or an event to attend. Year 2: find a way to volunteer (for example, reviewing program proposals, staffing a registration table, assisting with set up or clean up). Year 3: submit a proposal to present. Year 4: explore a leadership position. I challenge those of us who have written successful program submissions and presented sessions to offer to help someone with their application to present. Share with them what worked (and did not work) for you in the past. If you are a supervisor, work with your staff to find ways for them to engage and take risks.
 
Advocacy. Never be afraid to speak up. Prevention work has been going on for a long time and we are not done yet. No matter if you are a new professional or seasoned professional, we all have a responsibility to keep prevention at the forefront, no matter what the conversation. Friends and colleagues of mine have always said that it is amazing how I can weave a prevention message into almost every meeting or conversation. As an ACHA officer, I had the opportunity to attend meetings with many different people and organizations. In each conversation, it was important to convey the important role that college health plays. My prevention training served me well.
 
Keep learning and sharing. One of the things I so appreciate about higher education is being part of a community of learners. There are so many opportunities in our field to learn, especially if we take advantage of them. There are amazing people doing fantastic work all over this country. We all have something to share regardless of whether we are from a large school that is well resourced or a small school where everyone wears many hats. There are lessons to be learned at all of our institutions.
 
Those of us in college health have prepared for a pandemic our entire career: we are caregivers, we are planners, we are emergency managers, and we are educators. COVID-19 has given us a chance to shine. We should all be proud of the work we have done to help our students and campuses succeed. We quickly integrated the use of virtual tools to do our work; kept up with the latest research as we made decisions; and coordinated testing, vaccinations, quarantine, and isolation, all without skipping a beat. We were creative and nimble in programming. However, we also must recognize the toll this has taken on our students, staff, faculty, and ourselves. We have asked people to change almost every routine they previously had, and to forego many events and celebrations. The strength of our networks and our profession are part of what keeps us going.
 
While my time as an ACHA leader was not quite what I expected, I wouldn't change a thing. As I reflect on my time of service, I remain so grateful and honored to have had this opportunity. I have learned so much from people all across the country. I would encourage everyone to take a chance and become involved in an association or group outside of your campus, perhaps a community coalition, a statewide committee, or a national professional association. If you are already involved, bring a newer professional along so they too can have this opportunity and learn from you. No matter the time or place, find ways to engage with a community broader than yours.
 
I often say If you can dream it, you can do it. I encourage everyone to follow their dream; it may lead you to places you never expected!
---
Katrin Wesner-Harts, Ed.D, FACHA, is currently serving as the Interim Associate Vice Chancellor for Student Affairs at the University of North Carolina Wilmington. She joined UNCW as the Director of the Abrons Student Health Center in 2007 and has been active in the prevention field since she began her career in 1990. Katrin has been a member of ACHA since 1995, serving as the 2019-2020 President. She is completing her term as Immediate Past-President this June. Katrin received her bachelor's degree in psychology from Carnegie Mellon University; her master's degree tin psychology from Rensselaer Polytechnic Institute, and her doctorate in educational leadership/higher education from UNCW, where her research focused on emergency preparedness of faculy.