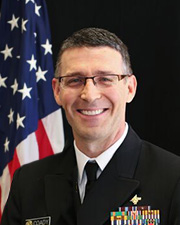 CAPT Jeffrey Coady, Psy.D.
We are experiencing one of the most volatile substance misuse prevention climates in living memory. The global coronavirus pandemic and its related issues continue to challenge prevention professionals to adjust and innovate as they address the misuse of alcohol, marijuana, prescription drugs, and other substances in new and creative ways.
According to SAMHSA's National Survey on Drug Use and Health (NSDUH), instances of any alcohol use by individuals under age 21 have decreased since 2002, with drinking by 12- to 20-year-olds declining from 29 percent to 19 percent between 2002 and 2019. Much of that progress can be attributed to the effectiveness of community-based prevention strategies. However, recent data shows increases in substance use that appear to be linked with pandemic-related stress. Among adults ages 18 and older, 13 percent reported that they started or increased substance use to cope with stress or emotions related to COVID-19, and 1 in 4 respondents ages 18 to 24 reported increasing substance use in the past 30 days to cope.
As demonstrated in all of SAMHSA's prevention programming targeting the illegal use or misuse of substances, this work is rooted in the Strategic Prevention Framework (SPF). The SPF offers prevention professionals a comprehensive approach to understanding and addressing the substance misuse and related behavioral health problems facing their states and communities. It emphasizes the use of assessment data to determine prevention needs, capacity-building, planning, implementation, and evaluation. Guiding principles include cultural competence and sustainability. Lessons learned from communities using the SPF help inform SAMHSA's prevention programming.
SAMHSA's Communities Talk to Prevent Underage Drinking (Communities Talk) initiative is just one resource that is currently providing valuable lessons in how community-based prevention strategies can effectively mobilize stakeholders in a difficult environment. The initiative engages colleges and universities as well as other diverse communities that are balancing available prevention resources with the tremendous demand for behavioral health services. Activities range from public education and awareness raising campaigns to efforts that infuse substance misuse prevention priorities into public policy.
For example:
Florida State University's (FSU) Center for Health Advocacy & Wellness (CHAW) created online drop-in spaces for students and families to discuss concerns ranging from stress and anxiety to addiction and accountability. As some students lived in residence halls last fall, CHAW also developed online presentations with information for resident assistants such as what to do in the event of an overdose. In a school year that included both in-person and remote learning, CHAW provided prevention programming online through social media, live and recorded presentations, directing students to prevention options from off-campus partnerships and resources, facilitating virtual support groups, and more.
The University of South Carolina Community Coalition explored how the price of alcohol can impact underage and problem drinking. Minimum pricing requirements are designed to limit the availability of inexpensive alcohol to youth and young adults. The coalition hosted a discussion with Dr. Tim Stockwell, professor of psychology at the University of Victoria and Director of the Canadian Institute for Substance Use Research (CISUR), about the history of minimum pricing for alcohol in Canada and its impact on alcohol misuse prevention. Discussion participants learned how municipalities can reduce underage and problem drinking by limiting how cheaply business can sell alcohol. The coalition also discussed strategies to address the co-use of alcohol and marijuana among young people in their campus community.
Within the coming months, the San Miguel County Substance Abuse Prevention Coalition in Las Vegas, New Mexico, will host hosted a virtual summit to examine the rates of alcohol and prescription opioid use among San Miguel County youth and their impact on the local community. The summit will bring together parents and caregivers, law enforcement officials, first responders, and representatives from the public school system. The event will feature prevention education and resource opportunities that connect the dots between support for mental health and substance misuse prevention. Participants will hear directly from youth about their personal experiences with substance misuse and learned strategies for strengthening culturally based substance misuse protective factors.
By looking at how community-based prevention professionals are promoting critical prevention messaging during the pandemic, SAMHSA/CSAP has adapted its technical assistance services and resources to meet emerging community needs. New and updated materials include toolkits on how to create prevention opportunities that can be easily accessed through virtual platforms. At the same time SAMHSA's Prevention Technology Transfer Center Network works to adapt and improve substance misuse prevention/intervention, while providing direct training and technical assistance to the prevention field.
In September, National Recovery Month, prevention professionals on college and university campuses and elsewhere will have opportunities to host fall semester events tied to National Recovery Month and Communities Talk. In addition, the Talk. They Hear You. media campaign offers a wealth of resources aimed at helping parents and caregivers talk with their children early about the dangers of alcohol and other drugs.
While prevention often begins with a conversation, to inspire action to create change involves combining the science with insights from the field to implement prevention strategies in which everyone has a voice. The prevention field has learned how to keep substance misuse prevention alive and well despite a variety of roadblocks, crisis points, and other barriers. The prevention of substance misuse calls for even more of the persistence, creativity, and innovation already being demonstrated across our communities across the country.
 
---
CAPT Jeffrey Coady is a Commissioned Officer in the U. S. Public Health Service and a board-certified clinical psychologist. Since 2011, he has served as the Region 5 Administrator for the Substance Abuse and Mental Health Services Administration. In his role, CAPT Coady represents the Assistant Secretary for Mental Health and Substance Use at the regional level in fulfilling the agency's mission of reducing the impact of mental illness and substance use disorder on America's communities. He provides strategic consultation to national and regional healthcare stakeholders on policy, financing, and innovations to advance behavioral health prevention, treatment, and recovery. Since his commission in 2004, he has served a central role in conceptualizing, developing, and training federal mental health disaster response teams within the USPHS. He has received numerous professional, military, and civic honors throughout his career. He has an unwavering commitment to individuals with behavioral health disorders, their families, and the communities which they reside.