College is an exciting time of transitions, new experiences, responsibilities, and a lot more unstructured free time. For students in recovery from a substance use disorder, the overall collegiate environment can be frightening and isolating. Even though not everyone is drinking alcohol or using other drugs, the pervasiveness of substance use follows students in recovery into the classroom, and to campus-wide events, sporting events, and residence halls and off-campus housing. The availability and easy access to alcohol and other drugs can be overwhelming and pose quite a challenge to students in recovery.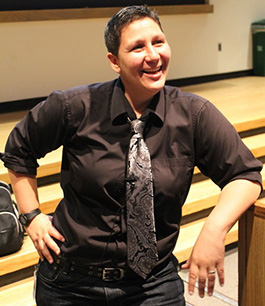 Diane Fedorchak
 
College students who are coming to terms with having a substance use disorder or who are active in recovery, often feel like they are the only ones dealing with this issue and that no one can possibly understand their experience. Seeking out living arrangements and roommates that support recovery and finding social events that do not include alcohol or other drugs can take considerable effort.
 
In 2005 I started a recovery support program because I knew a young person in recovery who was coming to UMass Amherst. I thought about what it would be like to be a first-year student with several months of sobriety. Though I couldn't quite fathom that reality, I did realize I was in a position to support that person through their collegiate experience.
 
After research and conversations with many professionals on campus and throughout the country, I created Fresh & Sober, an anonymous recovery-based support program for students seeking recovery or in recovery from alcohol and/or other drugs. This program provides:
 
a safe place for students who are questioning their substance use to discuss their concerns;
a peer-to-peer mentoring system for students new to recovery or new to the campus;
assistance in navigating institutional systems;
awareness of and referrals to 12-step meetings and other recovery support groups on and off campus; and
support to family members and caregivers.
 
The increase in availability of nationwide Collegiate Recovery Communities over the past 10 years provided a larger model for our program expansion. We provided a drop-in space for students, faculty, and staff to hang out, have coffee, and meet each other, and we used that space to host acupuncture clinics, meditation, and 12-step meetings. We created coffee mugs, pens, and magnets with an "I support recovery" slogan, and give them away on campus to raise awareness and reduce stigma. Students have proudly staffed information tables at various events to make themselves and the concept of recovery visible. We also hosted a graduation for students in recovery to celebrate their achievement of graduating college during their recovery process.
 
The more visible recovery is the more those in need will seek it. Though Collegiate Recovery Communities certainly vary from school to school, they all provide nurturing and affirming environments within the university setting to help students achieve their academic, personal, and professional goals. These programs create a recovery-friendly environment that supports all community members.
 
Students struggling with a substance use disorder and those in recovery are some of the bravest and most courageous people I know. Amazing things are possible in recovery. It is no easy journey and for some students just having one person be a champion for them on their path makes all the difference. My name is Diane and I am a proud Student Affairs Professional in long-term recovery.
 
 
Diane Fedorchak serves as interim director of the Center for Health Promotion at UMass Amherst. She has 15 years of experience in substance abuse prevention and intervention in higher education. In 2005, she was part of a team that implemented Brief Alcohol Screening and Intervention for College Students (BASICS), and since then she is responsible for every aspect of the program, including planning, implementing, hiring, training, supervising, and budgeting. She started the Fresh & Sober program, which provides a support network for UMass Amherst students in recovery or seeing recovery. She is a national consultant working with campuses to provide BASICS implementation and motivational interviewing trainings.