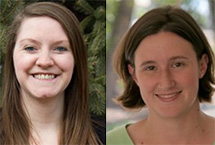 Margo Leitschuh (left) and Joan Masters
As coalition leaders of Missouri Partners in Prevention, Missouri's higher education substance misuse consortium dedicated to creating healthy and safe college campuses, we get asked a lot about what the most effective way is to create change on campus. The hard work of preventing drug misuse on college campuses often leaves professionals with low energy, little time, and scarce resources. It makes a lot of sense that our colleagues are searching for the quick and easy solution to address our campuses' key concerns.
 
Our answer is always that you can never go wrong investing time and effort into developing your coalition, assessing readiness, and listening to your colleagues. When we build the capacity of our colleagues and our coalition, outcomes follow.
 
First, readiness is vital in prevention. It provides a solid foundation and gives initial strength to the prevention efforts. For example, our coalition of colleges and universities does not take on a new campus unless they are ready to be fully engaged members. The same can be said for taking on new individual coalition members or gauging the need to start a coalition on campus. You must answer the question: is there readiness to make change? Coalitions must also be ready to put in the time and effort it takes to do alcohol and drug misuse prevention. Those who have been successful in prevention often make it look easy, but it is challenging work that takes time.
 
Second, resources are necessary in this work and none are more important than the stakeholders and coalition members. Engaging diverse stakeholders ensures a variety of expertise and views on a coalition. It is also important to focus on what you can control, and engaging partners who are ready and willing. Develop win-win situations that are mutually beneficial. For example, talk with Fraternity and Sorority Life staff about engaging with the coalition, noting that you can help get their staff trained in alcohol and other drug issues while having key voices in Greek Life on the coalition. Remember to not just gain initial engagement, but sustain engagement with regularly scheduled, positive, and productive meetings.
In order to strengthen your team, identify what gaps in knowledge your prevention team might have. On many campuses, coalition membership includes student affairs professionals, law enforcement personnel, or community business owners who might not have knowledge of public health strategies or the Strategic Prevention Framework. Ask colleagues about what knowledge gaps they have and provide online or in-person training experiences that help them understand the context of this work.  Share the resources on this website, www.campusdrugprevention.gov, or watch a helpful short training video at the beginning of every coalition meeting.
 
As you build the coalition and strengthen partnerships, use this group to raise community awareness of the issue. Some coalition members may want to be verbal champions and serve as spokespeople for the effort, while others may prefer to show passive support for the issues your campus is addressing. Ask them to raise awareness within their spheres of influence on campus or in the community. If you have invested time in developing win-win situations where these partners see value in their work, and they are well-trained and supported, this strategy will help provide a broader base of support for the important issues you are working on. It is also important to celebrate the champions of your work, whether you choose to do so in a formal way or with a simple thank-you e-mail or phone call.
 
Building capacity is crucial to creating community change that has lasting systemic impact, and it is a critical part of the Strategic Prevention Framework. A wise colleague once noted that building capacity starts with having one cup of coffee with a coalition member. Take a moment to identity potential stakeholders and champions and make the time to ask them about their views on drug misuse on campus. Thirty minutes for one cup of coffee and a good conversation will pay large dividends to helping identify how much work you will need to do to spotlight issues of drug misuse on your campus. You will find that this is the wisest investment you will make in your prevention career.
 
 
---
Margo Leitschuh has served as the Communications Coordinator with Missouri Partners in Prevention since January 2017. She holds a bachelor's degree in health science from the University of Missouri – Columbia and is passionate about public health. Within Partners in Prevention she works primarily on projects related to preventing impaired driving, suicide, and prescription drug misuse. She also assists campuses in strategic planning and implementing evidence-informed strategies.
 
Joan Masters is Project Director of Missouri Partners in Prevention, Missouri's statewide coalition of 24 colleges and universities. Joan is the Primary Investigator and Research Lead on multiple grants with Missouri state agencies regarding substance misuse prevention, relationship and violence prevention, and suicide prevention in higher education. Through the work of Missouri Partners in Prevention, Joan leads a statewide research project and provides dissemination consultation and support to the 24 campuses in the coalition. Joan also serves as a consultant on issues such as using the public health model to create change in campus safety concerns, implementation of the Strategic Prevention Framework and the Socio-Ecological model as a framework for systemic campus change, and implementation of the strategies recommended in the NIAAA's Alcohol Intervention Matrix. Joan holds an undergraduate degree in secondary education and an advanced degree in counseling psychology, coupled with an additional certification as a Missouri Advanced Prevention Specialist.