The APPLE Model: Substance Misuse Prevention Tailored for College Athletics and the Student-Athlete Experience
Image
---
The APPLE Model: Substance misuse prevention tailored for college athletics and the student-athlete experience
-Susie Bruce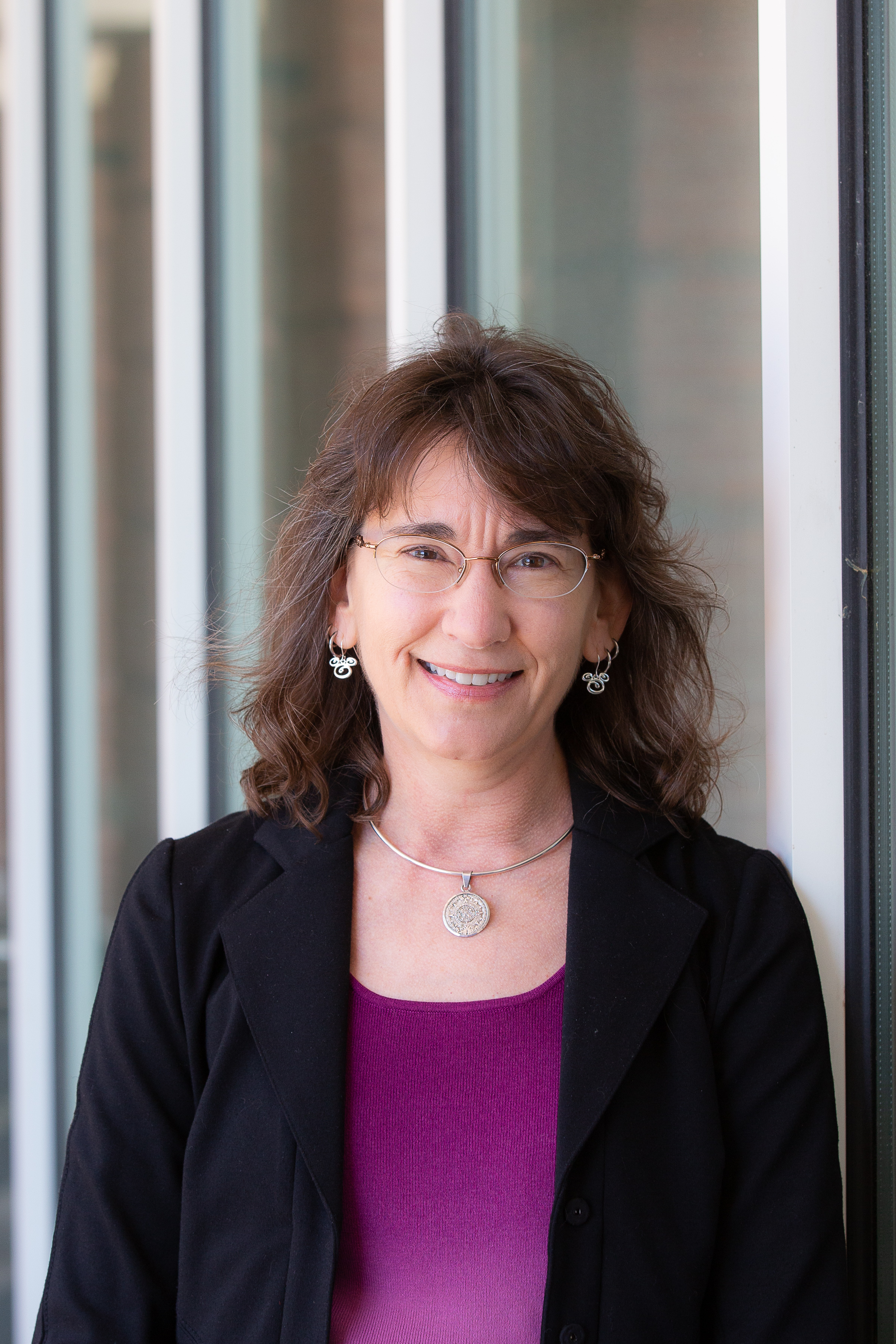 Throughout my career in college substance misuse prevention, I've heard frustration from colleagues about reaching student-athletes on their campuses. Although these comments are more common among those who work at schools with large athletic departments, challenges can occur at any size institution. The APPLE Training Institutes, created and facilitated by the University of Virginia's Gordie Center, provide an opportunity for teams of athletics department staff, prevention specialists, and student-athletes to break down campus silos, understand the ways alcohol and cannabis can affect athletic performance, learn about evidence-based prevention strategies, and build a substance misuse prevention action plan customized to their campus needs. Since 1991, the National Collegiate Athletics Association has provided substantial funding for the annual APPLE Training Institutes, resulting in attendance by over 60% of all NCAA-member schools.
The APPLE Training Institutes are grounded in the Athlete Prevention Programming and Leadership Education Model, created in 1991 through a collaboration between the University of Virginia's Athletics Department and Institute for Substance Abuse Studies (now the Gordie Center).1 The APPLE Model provides an athletics-specific prevention framework for a comprehensive effort to prevent student-athlete substance misuse though seven prevention areas (or "slices"):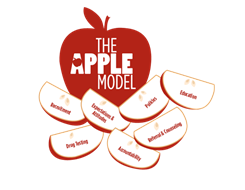 recruitment,

expectations and attitudes,

education,

policies,

drug testing,

accountability, and

referral and counseling.
The APPLE model is built on the belief that all members of an athletics department, especially student-athletes, must be empowered to help create an environment that promotes wellness and minimizes substance misuse. The formal components of the model -- policies, regulations, education, accountability procedures, and consequences of violations -- are the foundation of prevention efforts.  But these efforts can only be successful if the informal components -- recruitment messages, role models, and unwritten expectations -- reflect and extend the message that substance misuse prevention is a departmental priority and is everyone's concern.
The need for substance misuse prevention in college athletics is clear. The most recent NCAA Student-Athlete Substance Use Study results from over 23,000 student-athletes indicates that a majority of college athletes drink (77% drank in the past year2), which is similar to rates of nonathletes (81%3). Hazardous drinking (4 or more drinks for females, 5 or more drinks for males in a sitting) has declined among student-athletes from 55% in 2009 to 42% in 2017; however, substance use varies widely by gender, ethnicity, NCAA division, and sport. White student-athletes were the most likely to report alcohol use in the past year (83%) while Black or African-American student-athletes were least likely (59%). The highest rates of hazardous drinking were by males (34.9%), Division III student-athletes (36.2%), and in men's lacrosse (69%) and women's lacrosse (57%).
Cannabis use is much less prevalent, with 25% of college athletes using in the past year, which is less than among nonathletes (33%). The highest annual rates of past-year cannabis use by student-athletes were reported by males (26.3%), Division III student-athletes (32.6%), and men's lacrosse (50%) and women's lacrosse (34%). The lowest rates were among men's golf (19%) and women's gymnastics (11%). White student-athletes were most likely to report cannabis use in the past year (26%) while Black or African-American student-athletes were least likely (20%). These data show that in addition to customizing prevention efforts to each campus environment, they must also be adapted among teams where substance use is normative.
Prior to attending an APPLE Training Institute, each school's team contact completes a detailed assessment of their athletic department's policies, programs, communication strategies, and assessment efforts in each of the seven APPLE Model slices. The UVA Gordie Center provides confidential feedback to each team, identifying strengths and areas for improvement in each slice. Throughout the Training Institute, schools have team meetings using a detailed guide to create a measurable action plan to implement over the next year. Schools are required to bring at least two student-athletes as part of their six-person team to ensure that students' voices and experiences are central to the discussions and identifying an action plan.
Let's take a look at the Referral and Counseling slice of the APPLE model to illustrate what schools might include in an action plan. The guiding principles for Counseling and Referral are: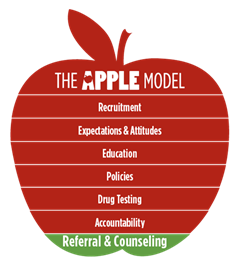 The athletics department has a department-wide, written policy that specifies the criteria for referrals to counseling or other appropriate services for substance misuse concerns. Procedures are designed to reduce stigma and ensure timeliness, confidentiality, and appropriate follow-up with referring sources. Scheduling is compatible with class, practice, athletics training, and competition schedules. Counseling resources employ a range of evidence-informed modalities, including recovery from substance use disorders, and are provided and/or supervised by clinicians with training in substance misuse and athletics issues.
A school with a low rating in this area on their departmental assessment would review the APPLE Facilitator Guide to learn about evidence-based interventions in the College Alcohol Intervention Matrix.4  For Counseling and Referral, we list the College AIM interventions of individual, in-person personalized feedback interventions (e.g., BASICS), Alcohol Skills Training Program, brief motivational interventions in groups, and in-person norms clarification. Through APPLE presentations, attendees learn that programs which promote the benefits of seeking help for mental health concerns are more effective for athletes than a focus on reducing barriers.5
Previous APPLE action plans in this area include small-scale projects, such as posting photos and names of the campus counselors in the athletics academic advising space to help students know about resources, to complex Safe Harbor programs, which provide a mechanism for student-athletes to self-refer for substance misuse evaluation and counseling/treatment. In this intervention, the athletics department works with counseling staff and the student-athlete to prepare a Safe Harbor treatment plan that strives to allow the student to retain their athletics scholarship (if applicable) and keep their connection to their team. Other common action plan strategies in this area include training student-athlete peer educators on resources and bystander intervention and hosting regular meetings between athletics and campus counseling staffs to build relationships, identify barriers to services, and create procedures to assist student-athletes with substance use concerns. These partnerships have led to counseling staff providing training in Motivational Interviewing for athletic trainers.
Over the past 30 years of directing the APPLE Training Institutes, the Gordie Center has identified several themes of successful action plans. Student-athletes' voices and experiences are central to any successful plan, but students cannot accomplish change on their own. Developing trust and consistent communication between student-athletes and athletics staff ensures roadblocks are identified early, students stay engaged, and plans move forward. Many campuses begin by developing uniform guidelines and policies for their "slice" across all teams instead of relying on a team-by-team approach. Regardless of "slice," the schools that made the most progress reported having an APPLE team meeting within two weeks of returning to campus.
The UVA Gordie Center's APPLE Training Institutes are held annually in mid-January and are open to all NCAA-member institutions through an NCAA grant that covers meals, lodging, and materials. NCAA Division II funds a DII-only APPLE Training Institute every 18 months, which will next occur in spring 2024. Participants must be part of a campus team of at least 4, but no more than 6 individuals, which must include at least two student-athletes.  See www.APPLEathletics.org for more information.
References
1Grossman, S., Gieck, J., Fang, W., and Freedman, A. (1993). The Athletic Prevention Programming and Leadership Education (APPLE) Model: Developing Substance Abuse Prevention Programs. Journal of athletic training. 28. 137-44.
2NCAA Research (2018) National Study of Substance Use Habits of College Student-Athletes. Retrieved from: https://ncaaorg.s3.amazonaws.com/research/substance/2018RES_SubstanceUseFinalReport.pdf
3Schulenberg, J.E., Johnston, L.D., O'Malley, P.M., Bachman, J.G., Miech. R. A., and Patrick, M.E. (2016). Monitoring the Future national survey results on drug use, 1975-2016: Volume II, college students & adults 19-55. Retrieved from: https://monitoringthefuture.org/wp-content/uploads/2022/08/mtf-vol2_2016.pdf
4Cronce, J. M., Toomey, T. L., Lenk, K., Nelson, T. F., Kilmer, J. R., and Larimer, M. E. (2018). NIAAA's college alcohol intervention matrix: CollegeAIM. Alcohol Research: Current Reviews, 39(1), 43–47.
5Reardon C.L., Hainline B., Aron C.M., et al (2019). Mental health in elite athletes: International Olympic Committee consensus statement. British Journal of Sports Medicine 2019;53:667-699.
---
Susie Bruce, M.Ed., is Director of the University of Virginia's Gordie Center, which works to end hazing and substance misuse among college and high school students nationwide through
evidence-informed, student-tested resources. She is Director of the NCAA-funded APPLE Training Institutes, a strategic training program for substance misuse prevention and health promotion within college athletics, a Faculty Affiliate of Youth-Nex: The Center to Promote Effective Youth Development, and serves on the Executive Board of the Step UP! Bystander Intervention Program.