SWEET Peer Educators at College of the Holy Cross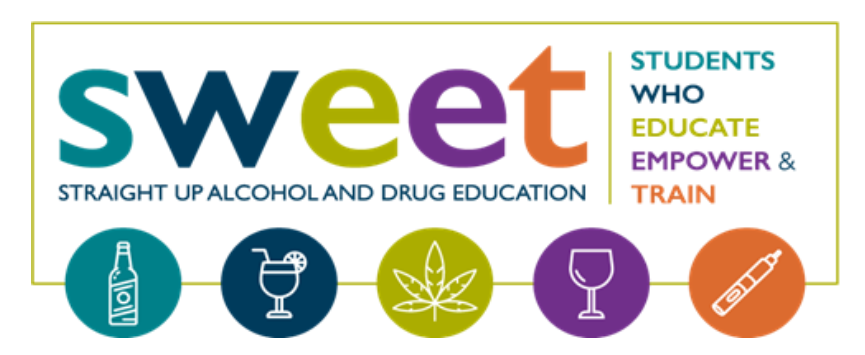 Advisor: Joy LaGrutta 
Assistant Director of Student Wellness Education 
The SWEET Peer Educators develop and lead educational programs designed to promote responsible behaviors and attitudes related to substance use. They strive to challenge myths and explore norms about substance use on the Holy Cross campus. By providing education and training to their peers, SWEET students believe that college students are capable of navigating situations where substance use is prevalent, by learning harm reduction strategies focused on safety and personal accountability. Through peer-to-peer outreach and campuswide programming, the SWEET team empowers students to make better choices that can improve their well-being in college. 
The SWEET educators also recognize that many students choose not to drink alcohol or use substances in college. Since an important aspect of substance use prevention is delaying the age of initiation, SWEET students seek to support and encourage abstinent students by planning social activities and events specifically marketed to substance-free students. Through this effort the SWEET team seeks to help build community, connection, and a sense of belonging among students who choose a sober lifestyle. 
Additionally, they are advocates in the fight to reduce stigma toward addiction and recovery. SWEET educators assist in recovery programming and the promotion of our campus Recovery Lounge. They recognize that a college campus can be a challenging environment for those in recovery and or for those affected by family substance use. Ensuring that students who have been affected by substance use are supported and able to thrive in college is an important goal of our group. 
What We Do: 
Lead tabling and outreach events 

Plan small- and large-scale events around high-risk times of year 

Provide workshops, presentations, and orientation trainings 

Design and implement print and social media campaigns 

Plan substance-free social events 
Promote recovery programs to support students in recovery 
Alcohol Awareness Week: October is a time when many first-year students are adjusting to college, and negative alcohol incidents are more likely to occur. Additionally, Halloween often involves parties with excessive alcohol consumption. During National Collegiate Alcohol Awareness Week, SWEET educators provide a weeklong series of events to promote messaging about safer drinking strategies. Events include drink pouring and measuring skills training, a visual flag display to recognize the 1,800+ college students who die each year from alcohol-related accidents, education outreach tables to discuss harm reduction, and the dissemination of 250 red ribbons to acknowledge Red Ribbon Week and spread awareness about the impact of substance use. 
Recovery Art Show: Recognizing that students in recovery might face unique challenges on a college campus, SWEET students planned an art show to draw attention to our recovery community, and to spread awareness about the impact of substance use. Artwork was displayed on the walls in our campus center, directly in front of our Recovery Lounge space. Each work of art included a short narrative about the artist, and how substances have affected their life. Additionally, students from the chamber music program were invited to play music as visitors came to view the art. Food was provided, and the event attracted a lot of guests, who came to view the art and hear the music. The event sought to help students recognize the ways in which students in recovery contribute to the diversity of our campus. It also sought to promote awareness of the impact that college drinking can have on certain members of our community. Since the event occurred outside our Recovery Lounge, it also assisted in promoting the availability of the lounge to anyone seeking support from our recovery community. 
Sober Tailgate: Since football tailgates on Saturday afternoons often involve heavy alcohol consumption, the SWEET Peer Educators teamed up with our athletics department to promote two sober tailgate events. A large roped-off section of the field was dedicated to students, alumni, and guests seeking an area to socialize and enjoy pregame festivities without alcohol consumption being the focus. Food vendors, inflatable games, yard games, mobile escape room, and an animal petting zoo were all featured vendors at the two tailgate events that were offered. Each event welcomed over 100 guests and helped promote the message that tailgating does not have to involve drinking. Through survey data, we were informed that substance-free students want to be at the same events as all their peers; they just want a space that is dedicated for nondrinkers. Providing a sober tailgate space enabled all students to feel welcomed at tailgate regardless of whether or not they were drinking. Additionally, showing the larger community how many students we have participating in alcohol-free events will shift the perspective that everyone drinks. 
SWEET Peer Education Program 
Our peer educators are all certified through the NASPA Certified Peer Educator training program. They also receive extensive training in skills related to leadership, program development, public speaking, health promotion, and evaluation. SWEET Peer Educators have the opportunity to promote positivity, safety, and wellness to the entire campus community.