Image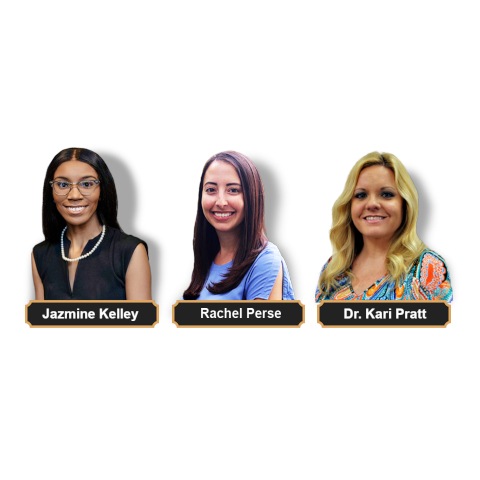 Jazmine Kelley of the University of Mississippi, Rachel Perse of the University of Miami, and Dr. Kari Pratt of Oklahoma State University served on the 1st, 2nd, and 3rd place teams, respectively, in the 2022 Red Ribbon Week Campus Video PSA Contest. They discuss how their schools came up with their PSA ideas, the benefits to entering the contest, and the response to their victories.
Rich Lucey: So this is exciting because for those of you that, hopefully you know, but if you don't, we post a monthly podcast episode on CampusDrugPrevention.gov. And this month we are celebrating our sixth season. We started it in January of 2018 and we're about to move to a video-based platform in our episodes to come. But we are really thankful to NASPA for giving us this opportunity to have this panel discussion with this year's winners so that this interview can serve as this month's episode, which will post on CampusDrugPrevention.gov in the next couple of weeks. So I'm going to start -- first, let me just introduce everybody at the table so you know who is presenting here. So again, our first place winner from the University of Mississippi is Jazmine Kelly, diversity education and strategic initiatives director. Next from the University of Miami is Rachel Perse. She's an assistant dean of students and director of the Sandler Center for Alcohol and Other Drug Education. And then from Oklahoma State University is Dr. Kari Pratt, assistant director of student wellness and adjunct faculty in Community Health Sciences, Counseling and Counseling Psychology. So please join me in welcoming again all our three winners to the podcast.
So I'm going to have you each start by telling our audience, both here in-person at the conference and our listeners online, tell us a little bit about your campus. We'll start with Jazmine.
Jazmine Kelley: Thanks, Rich. So the University of Mississippi is a large institution, 22,000+ and counting students. We're a Research I, Division I, predominantly-white flagship institution. And over the years, we've really gained a reputation of being what health educators don't want to hear, which is a party school. And so because of that, there's a lot of efforts towards substance misuse prevention.
Rich Lucey: Rachel.
Rachel Perse: Hi, everyone, and thank you, Rich. The University of Miami is a private institution located in Miami, Florida. We have around 12,000 undergraduate students and 17,000 total. So not too big, but not too small. We kind of have both a big and small campus feel. And what we're really known for is, you know, being located within the city of Miami and the impact that that has on our drinking culture and our party culture. We have a thriving Greek community on campus, as well as a prominent D1 athletic program, which also has an impact on our drinking and substance use culture.
Rich Lucey: And Kari, how about Oklahoma State?
Dr. Kari Pratt: Hi, thank you again for this opportunity today. Echoing similar to our first two respondents, Oklahoma State University is also a large D1 research institution. We have approximately 25,000 students, but we're a little bit unique in that we are not a D1 institution in a large city. We are a D1 institution that's kind of been plopped down in the middle of a very rural community. So our overall population in Stillwater, Oklahoma is approximately 50,000. So our student community makes up approximately half of our population. And also, as she just mentioned, we have a pretty recognizable athletic rapport within our community. And so with, you know, the Saturday football games and traditionally very healthy athletic program, brings a lot of parties, a lot of celebrations. And we also have a very robust Greek system. And, you know, that contributes to some challenges that we just are continually working to combat and provide education resources for.
Rich Lucey: Thank you very much. So now we're going to get into actual nuts and bolts about your entries into the contest. And I'll start with Jazmine. Why did you decide to enter the contest this year?
Jazmine Kelley: So entering the contest or finding out about it -- I didn't plan on entering. So we found out about it at the NASPA General Assembly. And I said, "you know what? A PSA sounds like a really good idea. Maybe we just follow the format or guidelines from the contest, and if we finish it on time, then we'll submit it." So it's actually kind of funny how that ended up working out for us. But to answer the question, we entered it because we finished it on time. So that's kind of what we did.
Rich Lucey: #Honesty.
Jazmine Kelley: Honesty.
Rich Lucey: Great. Rachel, how about you?
Rachel Perse: So like you mentioned earlier, the University of Miami was very fortunate to win this contest back in 2020. But since then, we have an entirely new group of students. And I myself, I'm new to the team since 2020. And so this team really wanted to have that opportunity to flex our creativity and video-making skills and have this opportunity to expand our reach beyond just our campus. There's not really many opportunities to do that, and so we wanted to take full advantage.
Rich Lucey: Kari.
Dr. Kari Pratt: So Oklahoma State University was a recipient a couple of years ago of a substance abuse prevention education grant from our Oklahoma Department of Mental Health and Substance Abuse program. And so through that grant is how we learned about this opportunity. And it worked out really well because just before we were made aware of this opportunity, we had actually created the website that you saw our beloved Mr. Pete, Pistol Pete scrolling through on our video to help our students have kind of a landing page where they can go to learn how they can get medication boxes, can they get naloxone for their fraternity or sorority home, things like that. So we created this web page but had not yet come up with a way to effectively market this page. And then this opportunity made itself known to us. And so we thought this was a great opportunity to create a PSA while also marketing a new resource or set of resources, I should say, for our students.
Rich Lucey: Thank you. And I want to follow up a little bit on something Jazmine had mentioned. And again, another shout out to NASPA because at the General Assembly last year, they did promote the contest among the students that were there and their advisors and such. And I think that went a long way to increasing the number of entries this year. We have, at DEA, made a concerted effort to try and get out to traditional and nontraditional channels to really talk up the contest. We think it's a great opportunity for campus components to come together, as well as their students to, you know, to develop a product, whether it wins or not. But we have been in touch with, for example, this past year, some folks from the White House Initiative on Ensuring Equity in Access to Historically Black Colleges and Universities. And so through their channels, they promoted the contest, which I think helped to increase our entries as well. So I would ask those of you here in the audience, even if you choose not to submit an entry, you know plenty of folks, those creative types who, you know, communications and marketing people on campus, your theater department -- shout out to the theater folks – you know, for the actors and such, there are plenty of ways to bring them together and get involved in this project. So let me start with Rachel this time; I'll take Jazmine off the hot seat for answering first every time. For all three of you, let's talk a little bit about how you came up with the idea or the concept behind your PSA. So I will say, just letting you know, among the judges and I could hear it in the audience, there was a bit of a humor factor in yours with the speed dating concept.
Rachel Perse: Yeah, absolutely. So it all started with just a brainstorming session between our entire student staff and everyone just throwing out ideas. And the speed dating idea came from one of our students, the one that actually plays alcohol in the PSA, named Dylan. And he had seen some sort of speed dating video on YouTube, but like actual speed dating; he threw out the idea and we kind of latched on because we saw all the parallels between toxic relationships – human relationships – and the toxic relationship that you can have sometimes with alcohol and other drugs and that alcohol and other drugs can have with each other. And so we had a lot of fun kind of coming up with those metaphors of, you know, taking your breath away, falling head over heels, and just went on from there.
Rich Lucey: I will say, peel back the curtain a little bit among the judges and people who have seen it in offices who weren't judges and such. They were kind of intrigued by the young man playing alcohol. That was kind of tangential, though, to the issue that each of the four who were playing the other drugs, whether or not there was alcohol involved, each of those drugs depicted exactly what they do, whether alcohol was involved or not. Did you have any kinds of conversations when you were developing it about, well, does he have to be alcohol? Could he just be, you know, a student or did you toss that around at all?
Rachel Perse: Yeah, a bit. Because you're right, these drugs have effects on their own and of course, in combination with alcohol and we decided to include alcohol just because we think that that is such an important topic: talking about the mix between alcohol and other drugs, not just the drugs on their own. And so that was intentional and part of our process.
Rich Lucey: Great. Thanks. So, Kari, at Oklahoma State, it was great. You used your mascot. It was obviously plain and, you know, front and center. Was that kind of the concept from the beginning, to use him?
Dr. Kari Pratt: Yes, it really was. So our student – with most universities, students are very partial and love their mascot and so that was something we kind of originally, when we sat down for our meeting, decided that he was going to be a part of that. And another piece of advice I have when coming up with ideas, hire young staff because no matter how cool I might think I am, college students don't always think a 40-something woman knows everything that's happening in the college world. So I'm very fortunate that I have a staff that's in their early to mid-twenties. Some of them, a couple, are recent graduates of Oklahoma State, so I am fortunate that I have a very good insight to what our college students are thinking. And so we sat down with our marketing team, which is again another blessing that we have as we have an actual marketing team with a multimedia producer. And so I know a lot of universities aren't that fortunate. So we utilize the daylights out of our marketing team and they do a fantastic job. So we sat down, decided that we were going to use our OSU specific data that we gathered from our NCHA assessment just because we've also found that our students really like to hear that information versus what the national rates of different things may look like. So that was kind of our thinking and how we decided to go down this route.
Rich Lucey: And so, you know, Jazmine, obviously with the first place award, what were the thoughts behind the whole, you know, camera action and the interviews?
Jazmine Kelley: So when I brought this idea to our mini marketing team within the William McGee Center for Wellness Education, I told them that I wanted to see our students transition from being on a path to success. So hearing things like "I want to get a 4.0" or "I want to graduate this year" and showing them just how substance misuse can really knock them off that path. And so I had a brainstorming meeting with our lovely student worker for marketing. Her name is Mary Kate Nelson and my former graduate assistant, Sadie Britton. And we came together and they said, "you know what? We should have a mirroring and we should have it be very candid where we go on campus and we actually asked students," you know, "'what do you want to accomplish? What do you want to see happen?'" And so it was really their idea and they just kind of ran with it and it turned out to be really awesome.
Rich Lucey: So I'm curious, a follow-up, they didn't know I was going to ask this so it's completely off-the-cuff, but I'm interested in the images that were used in your respective PSAs. So obviously, you know, Pistol Pete is very high-profile, right? I mean, for OSU. But Jazmine, I'll stay with you first. How about the students that were filmed? I mean, are they, are any of them known on campus or are they, you know, just your traditional student? How did you recruit them, I guess.
Jazmine Kelley: Sure. So my mini marketing team went out onto what we call our Union Plaza while students were out tabling and just stopped them. And so none of those students are necessarily, you know, high-profile leaders on our campus. They're just your typical, run-of-the-mill student, which honestly is what we were going for. We wanted it to be so that any student could see themselves in the video. So you don't have to be the president of this, you know, really cool group. You can be whomever you are just kind of walking around and this can still impact you.
Rich Lucey: I can tell you that since I was privy to the judges' discussions, that is what came across to them is they liked the fact that these were students who didn't seem rehearsed. It felt like organic and it just felt matter-of-fact and real responses to the question. So you achieved that.
Jazmine Kelley: Yay.
Rich Lucey: Rachel, how about, again, your students were more or less where they peer educators, you said?
Rachel Perse: Yes.
Rich Lucey: So are they visible? They are visible enough on campus, obviously through the different initiatives that they do.
Rachel Perse: Yeah, I'd say so. So everyone that was in the video is a peer educator at the Sandler Center for Alcohol and Other Drug Education. These students are very involved on campus. So in addition to being peer educators, they hold leadership positions across campus. So I'd say that they're highly visible students on campus.
Rich Lucey: Great. So this is the official announcement of the awards. And so they've all had to sit on this for about five weeks or so, as have we. But I'm sure there have been some behind-the-scenes conversations about, you know, you're getting the money and things like that. So I'll start with Kari at the end. What has been the response from the campus community since winning the contest?
Dr. Kari Pratt: Sure. So, I mean, obviously we had to keep it pretty quiet. So the only individuals we've been able to share it with are, you know, my immediate supervisor, who's our AVP and chief wellness officer and of course, you know, anytime in these days you can secure additional funding to help with anything, whether it's $1,000 or $10,000, it's helpful. And so he was very excited. Our team that sat down and originally brainstormed this idea was incredibly excited and happy. And so we're now just anxiously waiting when we can announce it to our campus and put out some social media and let people not only see that we won, but more importantly see and release that website and market that so that students know, you know, we're coming up on spring break, it'll be here before we know and so the medication boxes and the Naloxone are definitely things we want to really promote to our students.
Rich Lucey: Well, we'll be formally announcing, you know, to everyone, not just here at the conference, on CampusDrugPrevention.gov starting on Monday, I believe. And DEA and SAMHSA are prepared to start now promoting all three of you and your winning PSAs across our respective social media platforms. So as your Twitter feeds start to blow up and LinkedIn and Instagram, you'll know why. Rachel, let me go to you. What's been the response?
Rachel Perse: Yeah. Similarly, you know, we've had to keep it a secret and we're super excited to share it with the larger campus community. But our team at the Sandler Center was super excited to hear that we won second place and to have their hard work recognized was awesome. And then I also did share it within the Dean of Students office, which is where the Sandler Center resides. And the entire staff was so excited and very supportive and looking forward to seeing how this additional funding can really bolster our programing on campus and hopefully expand it.
Rich Lucey: And Jazmine, how about you?
Jazmine Kelley: So our immediate team, so those that worked on the video – funny moment when we found out everyone started jumping up and down in the middle of my office saying, "Oh my gosh, we won, we won." And so we are really excited to be able to share this with the rest of the campus. Our assistant vice chancellor for student wellbeing is anxiously waiting for me to send her a text to say "yes. You can now share it out to the campus community." So really looking forward to sharing it with everyone.
Rich Lucey: Well, it really is good news too. And so, you know, now's the time. You can send the text, the press releases can go out, and the announcement can be made. And we're thrilled about that because we know there's so much not so great news that happens in the work that we do. And that, you know, really contributes to a lot of our burnout and just being down about some of the work that we do, the consequences and such. So we're happy to contribute to the good news pieces. Couple more questions in the interview and I guess, Jazmine, I'll stay with you. So what do you see are the benefits to entering the contest?
Jazmine Kelley: The biggest benefit is that we're getting to share the video with our campus community. So not only do we get to hold it in and say, you know, here's all the really great things that are happening, but sharing the message that our video is saying that you can be on a path to success and unfortunately, substance misuse can come and knock you off. But then following it up with some resources to help our students. So the biggest benefit is just getting the message out there to our students.
Rich Lucey: Rachel, please.
Rachel Perse: So I said as I was submitting the PSA to a colleague that whether we win or not, that this was absolutely worth our time. Our team had so much fun putting the whole thing together. There was a lot of laughter, especially during filming and having to re-film things over and over. And so it was a great team-building and bonding experience, but also allowed our team to really explore and enhance their skills in areas that they don't normally get to, such as video editing, script writing, filming, acting, even. And so that was a great experience for them. And then, like I mentioned earlier, the opportunity to share our messaging to our campus but also beyond was such a wonderful benefit.
Rich Lucey: Excellent. Kari, how about Oklahoma State?
Dr. Kari Pratt: Yeah, so I agree. I think it's a lot of team-building happened within our group. So we had, of course, our student wellness team, we had our marketing team, and then just being able to get that messaging out was so important. Again, as I mentioned, this website is relatively new, but the information on it is so timely for us. And then yeah, we just had fun with it. I think the biggest benefit for us was that the cost-to-benefit ratio of doing this project was amazing. I think we spent maybe, I think, $50 to reserve Pete for the hour and the rest was just team when we have fun and it was great riding across campus in the John Deere Gator with Pete because the students are all looking at us like "what in daylight is happening right now?" And so we had a lot of laughs throughout the whole process. And now we have this great PSA that we can use for quite some time. And it was a very inexpensive project for us that I think will get us a lot of miles.
Rich Lucey: Great. And for our listeners, I think the takeaway from this podcast will be the going rate for a campus mascot is for $50 an hour. So that's nice to know. So final question of this interview, and I'll start with Jazmine and we'll work our way down. So what advice can you provide to our listeners – those here who are live at the NASPA Strategies Conference, as well as those who will tune in once we post it online. What advice can you provide to them who are working on their entry for, you know, or thinking about submitting an entry for this year's contest? What do you say?
Jazmine Kelley: My advice to them would be to do it. I know that seems really simple, but I encourage you to, whatever idea that you have, to put it forward to just see what happens. And that's what we ended up doing and it really worked out well for us. Another thing that I would recommend is collaborative thought. So again, this idea was not solely mine. I was not the only person that had a hand in this video submission. And so to bring a team together and really let them see how their hard work can pay off was really beneficial. So just do it.
Rachel Perse: So my advice would first to be to have fun with it. Use it as a team-building experience. But also, the more fun that you're having, the more that's going to come across to those watching it. And then the other piece of advice would be to involve students as much as possible. The more that the messaging can be coming from students, the more that that is going to resonate with other students. And our students were truly involved in every single aspect of the development of this PSA, from the idea to the script to acting in it to the video editing. And so that, I think, was a huge benefit.
Dr. Kari Pratt: Yes, I also agree. Just have fun with it. Additionally, make sure you're focusing on something that is meaningful to the students. So, you know, we've already been talking about future thoughts for this project and maybe potentially focusing in a little more narrow regarding our message, you know, like looking at LGBTQ+ populations and substance abuse issues that are specific to them, to minority students. So find something that's meaningful to your student body. And then I guess the only final piece of advice I would have and I kind of briefly alluded to this, is making sure I'm incorporating information that is something that's going to stand out for your students. So we've continuously received feedback from our students that unless we're just way above the average and looking really awesome, they don't particularly care about national averages or even state averages. They want to know what's happening on my campus, how many of my peers are experiencing overdoses in a year and those types of things. So if you have access to localized, campus-specific data, use it, use it, use it. It's so helpful.
Rich Lucey: Thank you. Well, I know that one of the hallmarks of the work we do in prevention is collaboration. And I think it's safe to say that since they each won this year, they are prohibited from submitting next year. They have to wait a year. I think that if anybody here or online is even remotely thinking about, you know, how to get started, that you'd all be open to, you know, fielding those emails or phone calls from folks just to kind of talk them through your process and maybe help them through their process. So we'd appreciate that. So please join me in thanking again our panel, Jazmine Kelly, Rachel Perse, and Kari Pratt.
And lastly, again, I want to thank NASPA for this opportunity and to all of you here in the room for listening in and to our online listeners tuning into this podcast. And with that, I'm going to say thank you and have a great day.