Image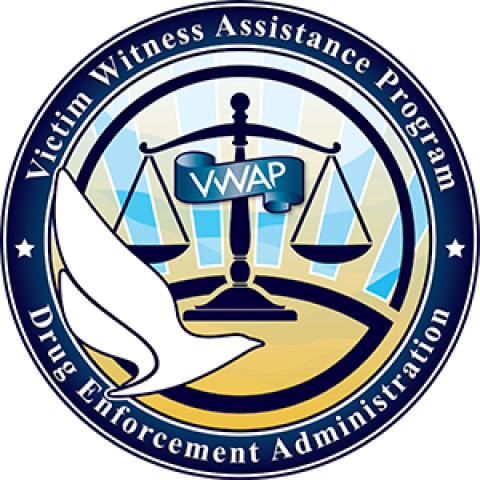 Deb Augustine, National Program Manager for DEA's Victim Witness Assistance Program, is our guest for this month's podcast. During the episode, Deb discusses resources available for crime victims, Sexual Assault Awareness Month (which is April), the drugs often used in drug-facilitated sexual assault, and much more.
Rich Lucey: Hi, I'm Rich Lucey, Senior Prevention Program Manager in the Drug Enforcement Administration's Community Outreach and Prevention Support Section, and welcome to this episode of Prevention Profiles Take Five.
 
I'm especially excited about today's episode because I get to interview one of my colleagues here at DEA so let me tell you a little bit about Deb Augustine who is the National Program Manager for DEA's Victim Witness Assistance Program.
 
Deb ensures the agency's compliance with crime victim's rights laws by providing training, guidance, requested case assistance and support through DEA's domestic and international offices.
 
Deb also assists employees victimized by crime and is a member of the DEA Employee Assistance Trauma Team.
 
She has presented at conferences on the topic of children living in drug environments and drug crime victims issues.
 
Deb currently represents DEA on the federal task force on missing and exploited children, the federal law enforcement victims assistance working group and the International Association of Chiefs of Police Victim Services committee.
 
And with that, Deb, welcome to the podcast.
 
 
Deb Augustine: Thank you, Rich.
 
Thank you for having me and thank you for all your many efforts in drug prevention.

Lucey: I think that I've said this to you certainly before.
 
The issues that you deal with are quite weighty.
 
They're quite heavy.
 
But I also think that they are so essential and needed.
 
And I'm looking forward to talking about those services today for all of our listeners.
 
So let's jump into our first question which I think is really important to lay the foundation.
 
Tell our listeners, what exactly is the Victim Witness Assistance Program and how does it fit within DEA's mission.
 
 
Augustine: Well, Rich, DEA's Victim Witness Assistance Program also known at VWAP helps ensure compliance with crime victims' rights laws and the Department of Justice Attorney General guidelines for victim witness by providing rights and services to federal crime victims identified in DEA's cases.
 
Along with Department of Justice components, many federal and state agencies have victim assistance programs.
 
In DEA VWAP to assist in this mandate, there's primary victim witness coordinators in our division and regional overseas offices and a victim witness coordinator in each district, resident and posted duty office.
 
Our responsibility is to identify, inform, refer and report victims of crime we encounter in our cases.
 
We also coordinate with federal, state, tribal and local law enforcement and collaborate with national, tribal, state and local victim focused organizations.
 
This collaboration is important not only when we're providing awareness and education on crime victim issues at conferences but when we refer a victim to the appropriate organization for assistance.
 
There's a wide network of organizations and professionals available to crime victims and to communities.

Lucey: So just a couple of clarifying points if I could on this.
 
So essentially as the National Program Manager, you said that there is a victim witness coordinator in each of our district, resident and posted duty offices.
 
So hopefully I'm not putting you on the spot too much, but approximately how many people are we talking about in terms of those coordinators.
 
 
Augustine: Well, there's 25 primary victim witness coordinators in the division offices, and there's approximately 150 in the district, resident and posted duty offices.
 
And that also includes our folks in our regional overseas offices.
 
 
Lucey: Okay, so you also mentioned that some of the victims are children, and they're living in or exposed to drug environments.
 
Is there like an exact definition of what a drug environment is, or what do we mean when we say children who are living in drug environments.
 
 
Augustine: A child living in a drug environment is a child exposed to whether it's drug trafficking, manufacturing, cultivation, use, whatever or even substance misuse by the parent or the caregiver.
 
They fall into the definition of an endangered child.
 
They are at risk and are impacted by these actions of their parents and their caregivers.

Lucey: And so we certainly know that drugs are sometimes manufactured even in living environments like apartments, houses, things like that.
 
And so that certainly constitutes a drug environment obviously if they're doing it in the home and children are living there.
 
That qualifies as what we mean by a drug environment, correct.
 
 
Augustine: Correct.
 
And it can even be, whether it's the home, it could be a daycare facility.
 
It can be any location where a drug crime is being carried out.
 
Traffickers use a variety of means and methods and a variety of locations where children may be present.
 
Sometimes children are brought to a drug deal and they're left in the car.
 
They're in the car or they're present during the drug deal.
 
Sometimes if we go into a home where we've done a search warrant, there is a child there or there may be evidence of a child there.
 
They child may be at school or the child may be with a caretaker.
 
But we basically are trying to make sure that that child is taken care of and that the authorities, Child Protective Services or a drug endangered child team or other multi-disciplinary response team reaches out to that child so that the trauma is addressed with that child.

Lucey: And before I move onto the next question, just again a clarifying question.
 
So when we're talking about DEA's Victim Witness Assistance Program, we are talking about victims of federal drug crimes, correct.
 
 
Augustine: Correct, correct, victims of federal drug crimes.
 
Sometimes if our cases are taken state, that may vary.
 
But it is anything that is a federal drug crime, one of our drug cases.

Lucey: Right.
 
So let me move onto the second question now that we know a little bit about what VWAP is.
 
What exactly are some of the resources that are available through VWAP.
 
 
Augustine: The VWAP webpage on dea.gov offers a variety of resources available to victims of crime as well as information on the rights of crime victims.
 
Like we were talking about children exposed to drug environments, there's a section on that on the webpage.
 
And there's also hotline numbers and links to websites.
 
And while our focus is on federal drug crime, it's our connection and our collaboration with those victim centered organizations that we bring attention to.
 
For example one of the resources listed for victims and survivors of sexual assault is RAINN, the Rape, Abuse and Incest National Network.
 
RAINN operates a hotline that puts and individual in contact with a local rape crisis center, and they also operate a 24/7 online chat service to respond to victims of sexual assault.

Lucey: So I think what I really appreciate about the resources that we have available is what you said, that while our focus is on federal drug crimes, it's the connection and the collaboration we have with other organizations that we bring attention to.
 
And I think that that's certainly true in the prevention field.
 
I mean that's exactly what prevention is based on, which are collaborations, partnerships, knowledge and connection to other organizations.
 
It sounds like that while you have what's certainly within your wheelhouse the services and resources for federal drug crime victims, you also have the connections to other crime victim organizations that you can refer people to.
 
That's an important resource.

Augustine: Right.

Lucey: So I'm going to move onto our third question because I think it's so appropriate to why we have you on as a guest in this month because April is Sexual Assault Awareness and Prevention Month.
 
I know this is something that you're connected to in the work that you do.
 
So why is this important for colleges and universities and especially their students.
 
 
Augustine: Sexual Assault Awareness and Prevention Month is an annual campaign to raise public awareness about sexual assault and to educate communities and individuals on how to prevent sexual violence.
 
Sexual violence impacts every community and it affects people of all genders, sexual orientations and ages.
 
Sexual assault refers to sexual contact or behavior that occurs without explicit consent of the victim.
 
Being aware of the risk of sexual assault and learning how to protect yourself, especially those first-year students in a new environment, is important for all students in colleges and universities.
 
Some of the recent stats include that every 73 seconds an American is sexually assaulted.
 
Another one is that among undergraduate students, 26.4% of females and 6.8% of males experience rape or sexual assault through physical force, violence or incapacitation.
 
And 23.1% of TGQN, transgender, gender queer, nonconforming college students have been sexually assaulted.
 
And last about one in five college aged female survivors have received assistance from a victim services agency.
 
And what's important to remember is the beginning of a school year can be the most dangerous time for college students when the risk of sexual assault is said to be the highest.
 
RAINN reports that more than 50% of college sexual assaults occur in August, September, October and November.
 
And the misuse of alcohol is frequently associated with sexual assault on campuses.
 
Drugs can be a factor as well.
 
And many cases of sexual assault and drug facilitated sexual assault go unreported.
 
And it's important to be aware, which a drug facilitated sexual assault which occurs when alcohol or drugs are used to compromise an individual's ability to consent with sexual activity.
 
Prescription drugs like sleep aids, anxiety medication, muscle relaxers or other drugs like GHB, ecstasy, rohypnol, or ketamine can be added to drinks without changing color, flavor or odor of the beverages.
 
All these substances make it easier for a perpetrator to commit sexual assault because they lower inhibitions.
 
They reduce a person's ability to resist, and they can prevent them from remembering the details of the assault.
 
In certain amounts any drug can leave you helpless.
 
DEA actually offers a brochure about drug facilitated sexual assault that's available on campusdrugprevention.gov.
 
College and universities know a safe campus is important to their success.
 
Families and prospective students, they trust that that college or university they choose will be a safe environment.
 
The Clery Act supports that effort.
 
The Clery Act is consumer protection law.
 
It aims to provide transparency around campus crime policy and statistics.
 
It requires prevention education on sexual assault, domestic violence, dating violence and stalking, that students and employees are aware of their rights and access to services and that prompt, fair and impartial disciplinary proceedings are conducted by trained parties at the institution.
 
Some colleges and universities have organizations focused on sexual violence prevention.
 
Peer education work, shops for student organizations and Greek chapters are who advocate for better policies, and they refer victims to on and off campus resources.
 
Some schools have emergency phones on campus.
 
Some may use technology and have video surveillance.
 
Others may even increase dorm security, all along while raising awareness about sexual assault.
 
86% of sworn campus law enforcement officials have legal authority to make an arrest outside of the campus grounds.
 
86% have a staff member responsible for rape prevention programming.
 
And 72% of campus law enforcement agencies have a staff member responsible for survivor response and assistance.
 
For anyone thinking that it's okay to commit sexual assault when both parties have been drinking or misusing drugs, remember this.
 
Having sex with someone who is mentally or physically incapable of giving consent is rape.
 
If you have sex with someone who is incapacitated due to alcohol or drugs, passed out or otherwise incapacitated, or saying no, or not knowing what's going on around them, you may be guilty of rape.
 
Communicate with your partner.
 
Yes means yes.
 
No means no.
 
It's not consensual when a female or male are too incapacitated to answer.
 
 
Lucey: There's just so much to unpack and dissect actually and get into what you just talked about.
 
So first of all, yeah, those first six weeks of campus, and I know that we're coming out of a year-long-plus period of time when many campuses were closed for all intents and purposes.
 
They had students no longer on campus.
 
They weren't learning due to the pandemic and such.
 
But we're eventually, and we are beginning to see the light at the end of the tunnel as it relates to the pandemic.
 
We know that there will be a return to whatever that sense of normalcy is going to be where students will be back on campus in residence halls and such.
 
And we've often said, at least in the drug use prevention sector, that that first six weeks of school, usually the last couple of weeks of August, the entire month of September or so is a particularly high risk period of time for so many reasons, because students have newfound freedom.
 
They're no longer living at home.
 
They're having their own new self-governance if you will, new peer groups and such.
 
And so we've often seen alcohol and other drug use rates tend to go up during that time, and we also know then that when the drug use rates go up, what happens.
 
 So do the consequences go up.
 
And so I think that that ties in.
 
It aligns with what you were saying about that high risk period of time for sexual assaults to occur, right.
 
 
Augustine: Right.

Lucey: Yeah.
 
I'm also glad you mentioned the Clery Act because as people have listened to this podcast series for some time though I started my federal career at the U.S.
 
Department of Education in the Office of Safe and Drug-Free Schools.
 
And while we were concerned with the part of the education regulations that dealt with the Drug-free Schools and Communities Act, there was often a connection to the Clery Act.
 
And as you mentioned, this whole idea of it being partly consumer protection, right.
 
 I mean schools are required to report their crimes in the database that Department of Ed maintains.
 
But there was also this close connection between the Drug-free Schools and Communities Act and the Clery Act.
 
And so for people looking for more information about that, they certainly could go to the Department of Ed's website and search for it there.
 
They also could go to clerycenter.org.
 
So they can learn more about that.
 
So Deb, I made reference earlier to the past 12-plus months and dealing with COVID-19 and university and community at large responses to the pandemic.
 
So what impact has the pandemic had on the Victim Witness Assistance Program.
 
 
Augustine: Well, Rich, I can say that the Victim Witness Assistance Program has continued our mission during COVID-19.
 
We've continued to identify and respond to crime victims in our cases.
 
Depending on the resource needed, availability may be limited.
 
But crime victim programs modified their way of doing business to continue to try to help crime victims.
 
Another thing is coordination and collaboration with crime victim organizations changed from onsite to a virtual platform.
 
So while we may have had some challenges, we've risen to those challenges in trying to respond to our crime victims.
 
 
Lucey: Absolutely I think that as we've seen in so many other settings, K-12 schools, colleges and universities, workplaces, the key word has been flexibility, right.
 
 And I think that what I've heard from you is that VWAP was no different, that the VWAP coordinators, yourself all had to find different ways of being flexible to still meet the needs of the victims of federal drug crimes, correct.
 
 
Augustine: That's correct.

Lucey: So as we start to wrap up, I always; this has become like the common question if you will of all of the guests that I have on the podcast series.
 
And that is regarding advice and takeaways.
 
So what takeaways do you want our listeners to leave with after listening to this episode.
 
 
Augustine: I believe I would like them to take away some of the facts that alcohol and drug issues can impair your judgment.
 
You might not be able to make the same decision you would make if you were sober, and to remember when someone is sober or under the influence of alcohol or other drugs, if they're sexually assaulted they're not responsible for the assault.
 
I think that students should take steps to increase their personal safety on and off campus.
 
When you're with your friends and you go to a large party, watch out for one another.
 
If you drink, drink responsibly.
 
Know your limits.
 
Don't let anyone else make the decision of how much or what you will drink.
 
And it's important to know that if you are sexually assaulted, please reach out for help.
 
All colleges and universities provide some sort of counseling services or victim support, which is important for survivors.
 
You can reach out to campus law enforcement, campus counseling services, support group, a resident assistant or a local victim advocacy organization.
 
And if you want faith-based support, many colleges have chaplains and other religious leaders on campus you can talk to.
 
Survivors of sexual assault can call the RAINN 24/7, confidential hotline at 800-656-4673 or they can go online to the RAINN website and chat online to speak to somebody who's trained to help and who can direct them to the right help.
 
You can also learn about your rights and your options.
 
Some communities even have a sexual assault nurse examiner or a sexual assault response team in their community, which basically is a team that coordinates the response to victims of sexual assault.
 
And last, there's a quote by Theodore Roosevelt that goes, In any moment of decision the best thing you can do is the right thing.
 
The next best thing is the wrong thing.
 
And the worst thing you can do is nothing.
 
During Sexual Assault Awareness and Prevention Month, don't do nothing.
 
Please do something to educate yourself.
 
Show support for survivors and help change the culture surrounding sexual violence.
 
 
Lucey: That is such a great takeaway and piece of advice to give to individuals.
 
I love that thought of don't do nothing.
 
I mean at the very least we want people to become educated about all these various issues that we talk about on all of the different episodes of the podcast series.
 
And the issues that we got into here are, as I said, are very weighty.
 
They're very heavy.
 
But we all have a role to play in this.
 
And so Deb, I really thank you for coming on to the podcast and talking about these issues and talking about VWAP.
 
I'm sure that there are so many people that don't even know that we have this type of a service, and that's why that we want to shine that light on this particular program.
 
So for our listeners let me also say that once we post the interview and transcript, you can learn more about all these different resources that Deb talked about including the hotline from RAINN and Clery Center and such because they'll be listed in the transcript.
 
So you can go to those resources to do exactly what Deb said.
 
Educate yourself on this very issue.
 
Deb, again it's been a pleasure to have you on the podcast.
 
I have the pleasure of getting to work with you regularly within DEA, but I think I'm very happy we've had a chance to talk during the podcast and to inform our listeners about this very important issue.
 
So thank you.

Augustine: Thank you, Rich.

Lucey: And for our listeners again we thank you for taking time out of your day to listen to this episode, and we wish you all the best of luck in your continuing prevention efforts.
 
And with that, again this is Rich Lucey and I'd like to say thank you.
 
Have a great day.