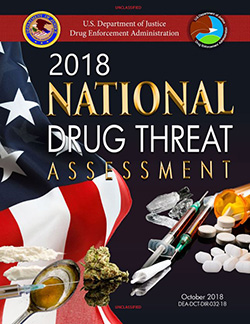 WASHINGTON – DEA Acting Administrator Uttam Dhillon today announced results of the 2018 National Drug Threat Assessment, which outlines the threats posed to the United States by domestic and international drug trafficking and the abuse of illicit drugs.
"This report underscores the scope and magnitude of the ongoing opioid crisis in the United States," said Acting Administrator Dhillon. "The information in the report represents data and critical intelligence from our law enforcement partners that was gathered over the past year. This report highlights the necessity of using all the tools at our disposal to fight this epidemic, and we must remain steadfast in our mission to combat all dangerous drugs of abuse."
Among the key 2018 NDTA findings:
Controlled prescription drugs remain responsible for the largest number of overdose deaths of any illicit drug class since 2001. These drugs are the second most commonly abused substance. Traffickers are now disguising other opioids as controlled prescription drugs to gain access to this market. (pages 1-10)
Heroin-related drug-poisoning deaths almost doubled between 2013 and 2016. This has been exacerbated by the increased adulteration of heroin with fentanyl and other synthetic opioids. Heroin available in U.S. markets is primarily sourced from Mexico, where opium poppy cultivation and heroin production have both increased significantly in recent years. (pages 11-20) 
Of all opioids, the abuse of illicit fentanyl and other synthetic opioids has led to the greatest number of deaths in the United States. Read the rest of the press release on DEA.gov.