Cannabis on Campus? Not Allowed
By September Johnson

If marijuana is legal in the state you attend school, then it must be okay to use, right? Not exactly. Some states across the country have legalized recreational and medical marijuana use, and these changes in legislation have caused confusion among students regarding how these laws apply to them.
Cannabis use is illegal, and students who attend a college or university in the United States that receives federal funds and/or students receiving federal financial aid are barred from using cannabis. Marijuana is a schedule 1 drug and remains illegal on the federal level (1). Most every school in the United States receives federal funds to support the work the university is doing. This includes financial support for research the schools may be conducting, as well as federal financial aid that students receive to help cover the cost of school. Colleges and universities who accept these federal funds must remain compliant with the Drug-Free Schools and Communities Act, which means that use and/or possession of cannabis, in any form, or possession of any paraphernalia, will not be tolerated on campus (2). Some schools may prohibit cannabis use off campus as well, as part of the student code of conduct or the honor code (3). If colleges and universities wish to continue receiving this funding, those schools are required to recognize the federal classification of cannabis and align their campus regulations accordingly.
 
Under the Drug-Free Schools and Communities Act, colleges and universities are required to annually inform students of the legal and university-based sanctions that will be taken if a student is caught in use or possession of cannabis (4). Colleges and universities also are required to inform the campus community members of resources they – or someone they are concerned about – can use if they might have a cannabis or substance use disorder (4).
 
Students should refrain from cannabis use, both medically and recreationally, while enrolled in a higher education program.
References
(1) Dea.gov. (n.d.). Drug Scheduling. [online] Available at https://www.dea.gov/drug-scheduling [Accessed 9 Jul. 2019].
 
(2) Congress.gov. (n.d.). H.R.3614 - 101st Congress (1989-1990): Drug-Free Schools and Communities Act Amendments of 1989. [online] Available at www.congress.gov/bill/101st-congress/house-bill/3614/text [Accessed 3 Jul. 2019].
 
(3) Nierenberg, A. (2018). Students' pot use puts colleges' funding at risk. [online] Boston Globe. Available at www.bostonglobe.com/metro/2018/10/07/students-pot-use-puts-colleges-funding-risk/lDEMv1qY4LwZUsjhBDWVJK/story.html [Accessed 7 Jul. 2019].
 
(4) National Center on Safe Supportive Learning Environment. (2006). Complying With the Drug Free Schools and Campuses Regulations. [online] Available at https://safesupportivelearning.ed.gov/sites/default/files/hec/product/dfscr.pdf [Accessed 3 Jul. 2019].
 
 

September Johnson serves as the Director of Health Education at Wesleyan University. She is a tobacco treatment specialist and certified health education specialist. September earned her master's in public health from the Boston University School of Public Health. In her time at Wesleyan, September has implemented a tobacco and vape-free policy, started a party registration program in collaboration with residential life, and developed and coordinated a campus-wide campaign titled "#PartySaferWes" which is dedicated to prevention efforts surrounding high-risk substance use and safer sex practices. September has a special interest in alcohol and other drugs, sexual health, and harm reduction in higher education.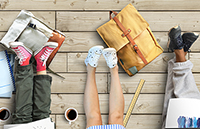 Go Back to the Student Center